Key Features
Holds up to 4 passengers

(Single Passenger Optional)

Easy to fold/unfold
High face-to-face seats with footwell for better interactions
Deep carriage with zippered mesh panels for optimal ventilation
Front zipper door for easy access/storage
Slidable/Removable Canopy with UV Protection
Adjustable Canopy Rods
Removable/Reclining seats with Magnetic 5 point harness
Adjustable push handle with Leather cover
Removable fabric for easy cleaning
Extra storage on all sides of the body including: Detachable rear basket, Back panel pocket, Seat pouch
1-step foot brake system
Optional strap for pulling the stroller wagon
All-Terrain XL PU Tires
Age Group: 6+ months
Wagon Weight: 58 lbs (With seats installed)
Wagon Weight Capacity: 300 lbs
Seat Weight Limit: 99 lbs per bench (2 seats per bench)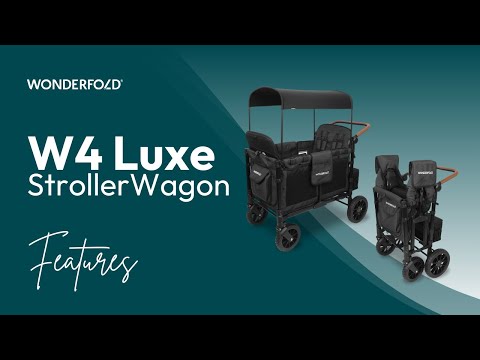 Dimensions
What's Included
FAQ
Want to see it in real life??? Tap HERE!
(1x) W4S 2.0 Stroller Wagon
(1x) Canopy
(1x) Detachable Basket
(1x) Pull Strap
(2x) Seats
(1x) Vegan Leather Handlebar
(4x) All Terrain XL Wheel
How much weight does this wagon hold?
The W4S 2.0 holds up to 99 lbs per bench and up to 300 lbs without the seats.
Do the seats recline?